White Dry Erase Wheels of Chance
Prize Wheels with White Dry Erase Pie Pieces – Quickly and Easily Change the Wheel Sections!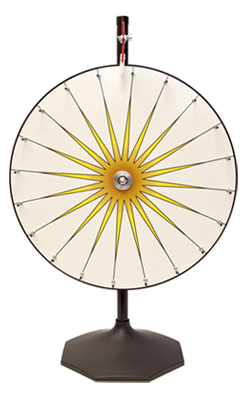 White Dry Erase Wheel of Chance
White Dry Erase Prize Wheels are fun and simple to use! With these high-quality "Do-it-Yourself Prize Wheels", you can write anything you want on the sections and when you're done, simply wipe off your Prize Wheel and start all over again.
This Wheel of Chance features an erasable whiteboard surface, making the Wheel the best choice for those seeking a Prize Wheel that can be customized "on-demand" and changed from event to event at virtually no cost and with minimal effort.
24" Prize Wheel with 12 Sections and Table Stand (15 pounds) – $315.00
36" Prize Wheel with 20 Sections and Table Stand (21 pounds) – $375.00 ($513.00 with 6, 13 lb. Break-Down Floor Stand)
Our Dry Erase Whiteboard Prize Wheels are made of high density MDF wood with Melamine on both sides. MDF stays flat and will never warp like particleboard. The Melamine surface seals the Prize Wheel face from scratches and protects it from moisture.
All our Dry Erase Prize Wheels also feature a standard oversized 18 inch ABS black plastic base and steel pole with a durable black powder coat finish. The Prize Wheels spin on twin, maintenance-free, aircraft quality bearings and feature durable black replaceable edge molding, heavy-duty 1/4 inch pins with plastic end caps & insert lock nuts, and a professional red urethane clapper with white a Delron tip. Every Promotional Wheel is hand-balanced to ensure random spins.
Please feel free to
contact us
at 1-800-233-0828 for more information on any of our Prize Wheels of Chance.
To order Wheels of Chance, please call 1-800-233-0828